Good Deal Games
in association with



Proudly Present
an ARCADE in your Home!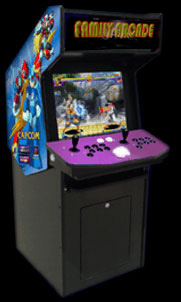 Family-Arcade
Home Arcade Machine

Want to play CLASSIC ARCADE GAMES in your own home or office with an AUTHENTIC ARCADE MACHINE with REAL ARCADE CONTROLS?
Then this is THE MACHINE for YOU!
· Pull out keyboard drawer
· HotRod Control panel with Trackball
· Lighted Marquee
· Locks and Keys
· Levelers
· Full disassembled DIY kit in a small box

Built by the same professionals that have been doing real arcade machines for the past 30 years. Every item used in the construction of the
Family-Arcade, is of commercial grade giving you years of durability. Handcrafted in the USA, with a 1 year workmanship warranty.

Built solid using 3/4 inch Melamine-laminated wood (Black with matching Black T-molding trim).

The Family-Arcade cabinet measures 23" wide, 32" deep, and 60" tall and weighs approx... 150 lbs when assembled.

Hidden keyboard pullout drawer on sliders under control panel.

The HotRod control panel has (16) independent arcade style microswitch buttons, (2) 8-way arcade style microswitch joysticks, and player one and two start buttons, and more importantly a fantastic
4 inch trackball, perfect for Centipede, Crystal Castles, and dozens of others!

Get the
PERFECT ARCADE SYSTEM
complete with Controller
and Extension Stand for
ONLY $1150!

Shipping and handling
fee of $150 for delivery.

Minor installation required.
Easy to follow instructions included.
Assembly required less than an hour.
Includes everything you need except a screwdriver!

Sold without internal computer and monitor.
No CPU, monitor or speaker system are included.